Review BoundCon 2023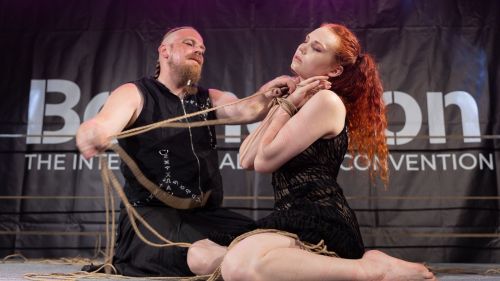 BoundCon 2023 is history and we have all landed back in everyday life. We carry many beautiful memories in our hearts. But also difficult and even sad moments.
For example, it was the first BoundCon in many years without Andrea in the trade show office. Nevertheless, she was present in our thoughts and hearts. She was always the heart of BoundCon. We hope that she can be there again in 2024.
I would like to take this opportunity to thank all the helpers from the bottom of my heart for their flexible work, independent thinking and dedication. You were great! - The Family
The kitchen crew did a great job again and worked non-stop. Like every year the Andreas and Tunde crew. It is impossible to imagine the event without them. Also there family in action!
The exhibitors were present in large numbers and have sold their carefully made products with much joy and verve. Walking through the aisles, you saw so many smiling faces and shining eyes. A colorful world of the Kink. - Family -
Guests were out in numbers and really brought BoundCon to life. When the doors opened on Friday, numerous people streamed into the hall with beautiful fancy outfits or simply in street clothes. Everyone was allowed to participate in the many fetishes, preferences and facets of the visitors. It was as if they would awaken the hall only to the blooming life. - Family -
The artists came from all over the world. A variety of bondage art, passion and BDSM conjured up many a magical moment in the hall. Passion blazed like fire and left one or the other amazed. Or the closeness and depth between the actors let a tear flash in the corner of some eyes and let people feel how much closeness and love our passions are capable of. Pain and joy are so close to each other. How diverse people are. - Family -
The world is getting more expensive, sadder and more complicated. Sometimes you lose the courage to watch the news at all. But it is also colorful, happy, intimate and full of love. We stay true to ourselves and always find a way to be together The BoundCon. The somewhat different family reunion.
- We are BoundCon -
THANK YOU
Your Minuit, RopEmotion, HP and Crew
---
---