Hauptsponsor BoundCon XVIII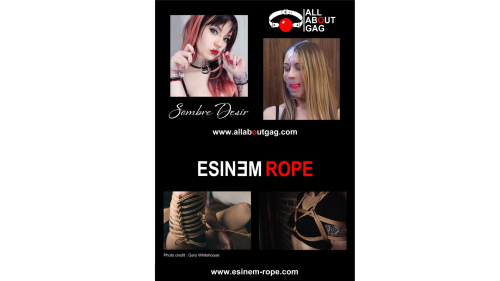 ESINEM Rope is a long-established specialist bondage and shibari rope supplier worldwide and known for its excellent quality, durability, and ease of use.

We are proud to share our passion and allow you to live intense moments in our ropes. Our philosophy: there are many ways to bind as to love.

For more than 10 years we offer a wide range of ropes (jute, hemp, synthetic, semenawa, dyed, ...), accessories, rope care products, safety accessories, kits and more.

The ropes are made from premium natural fibers for maximum strength and longevity. The ropes are available in a variety of lengths, diameters, and colors to suit the preferences and needs of different users.

Our signature ropes have a unique construction that make our ropes durable and balanced.
All About Gag - is the worldwide producer and seller of customized PVC kink gear. Our Products are handmade, high quality and all vegan.

We ship them to all around the world. In our stock we have different color of PVC (clear, black, white, blue and red) which we constantly renew and expand. and full range of size and color of silicon ball.

Our company is based on fully customized and personalised products. This can include customized size, color, design, shape, type of product and even items with your own name, logo.

We also have a store of basic kink products to give you ideas and inspiration, These products are available to buy as they are or also customized or personalized.


Why PVC ?

There is 3 main reason

1- This material is shiny by nature. It's reflect the light without ainsi product
2- It's a no porous material unlike leather or faux leather (PU) who absorb liquid and almost impossible to clean it properly. PVC and silicon and waterproof and easy to clean, that is perfect to keep a good hygiene
3- PVC is made of petrol, not animal skin. It's to perfect material who combine resistance and vegan.
---