AVANTGARDISTA 2023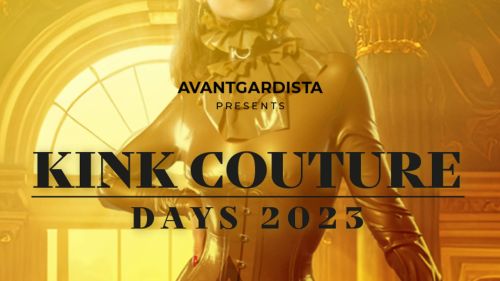 AVANTGARDISTA: The fashion happening that takes you on a journey into the realm of the senses.
On 14 October 2023, AVANTGARDISTA will take place at Motorworld Munich. The event is a must for all fashionistas who are enthusiastic about extraordinary fashion and an erotic and extravagant lifestyle.
Our 23-metre-long catwalk will be heated up by models in exclusive designer creations. These fashion highlights will also be presented at the stands. Look forward to a wide variety of materials such as leather, latex, metal or PVC through to high heels and accessories.
AVANTGARDISTA is more than just a fashion show. It is an experience that takes you into another world. A world where the boundaries between reality and fantasy become blurred.
Would you like to know what awaits you? Then just read on!
The gates to AVANTGARDISTA open at 12 noon. You will then have plenty of time to admire the art exhibition and be inspired by the creations of more than 20 national and international designers.
At 5 pm the time has finally come: the fashion show begins. More than 200 models present the latest creations of the AVANTGARDISTA designers.
The show is a visual firework. You will be amazed at what the designers have conjured up from the most diverse materials.
AVANTGARDISTA 2023
Saturday, 14 October 2023, 12:00 hrs to 23:00 hrs | Fashion Show from 18:00 - 22:00 hrs
Motorworld Munich, Am Ausbesserungswerk 8, 80939 Munich
Admission: Free
https://avantgardista.net/ PROGAMM AVANTGARDISTA - Kink Couture Days 2023
Friday, 13.10.2023
17:00 - 23:00 | ShowRoom AVANTGARDISTA
More than 25 international Kink Couture exhibitors. Drinks & Snacks.
8:00 PM | Meet & Greet
The get-together of designers, artists, models and photographers. Open to all visitors. DJ & drinks & snacks.
Saturday, 14.10.2023
12:00 - 23:00 ShowRoom AVANTGARDISTA
More than 25 international kink couture exhibitors. Drinks & snacks.
18:00 - 22:00 The AVANTGARDISTA FASHIONSHOW
21 extravagant and FASHION SHOWS right in the heart of Motorworld. Drinks & snacks.
10:00 PM | SubRosaDictum. SpaceIntruders. The after-show party. DESIGNER AVANTGARDISTA - Kink Couture Days 2023
Benno von Stein
For 20 years, the well-known alternative fashion label Benno von Stein has been inspiring the fetish community with its creative and exclusive designs. Special fits in high quality. Fashion MADE FOR LOVE.
www.instagram.com/bennovonstein
Choses Nobles
Exclusive fetish & festival wear made in Germany. Precious materials meet leather craftsmanship in perfection. Live your fantasies.
www.instagram.com/choses_nobles
Fernando Berlin
Passion for fashion - passion for boots. Premium boots with a perfect fit made of the finest leather. Tailor-made boots and gloves since 2009. The design palette ranges from booties, knee-high elegant boots to overknees and sexy crotch-highs.
www.instagram.com/fernando_berlin_official
Pairadize Clothing
BE AESTHETIC - WEAR ASSTHETIC. Home of Assthetic Pants. Shiny wet-look leggings with push-up effect.
YourShape
YourShape Corsets is a trendy label with unique, handmade and very high quality corsets in a variety of styles. All corsets, skirts and accessories are handmade with love and can be made to measure.
www.yourshape.eu www.instagram.com/yourshape_korsett
Deluxe Latex - Kazakhstan
Latex Fashion from Almaty, Kazakhstan. For the first time in Germany!
www.instagram.com/deluxe_latex
Dino Sadino
Let's love harder. The fetish designer who specialises in making clothes and accessories designed specifically for the scene. He uses a variety of materials including leather, latex, rubber, metal and plastics to create unique, often provocative designs.
Epic Couture - Vienna
Two Viennese designers impressively show what is possible in the world of fashion in combination with latex. Through their creative, individual ideas, from extravagant latex designs, floral latex creations, corsets, rubber biker jackets to innovative combinations with fabric, unique pieces are created with the finest craftsmanship!
www.instagram.com/epic_couture_vie
Ero Chains - Érotique Couture
Founded in 2008, Ero Chains stands for exclusive and innovative chain fashion, handmade and unique! 15 years of experience and pleasure. Clothing, jewellery and accessories of a very special kind.
Fetish Fantaisies - France
Elegant latex fashion from France. Jerome Gilbert has been designing exclusive latex fashion for "les dames" since 2009.
Fleurinna Wings Creation
Wings are imaginative and unusual, they tempt us to dream and transport us for a brief moment into a fairytale world. With wings you feel elation, divine beauty and elegance.
www.instagram.com/fleurinna_wings_creation
Fred Kyrel - Fashion Rope Art - France
Fred Kyrel from France has been developing a new form of styling for the last fifteen years. He artfully creates unique, sometimes ephemeral works from all kinds of ropes and coloured beads, which are combined with creative knotting and braiding techniques to create unique fashion creations.
Gold Piercing Art
With passion and traditional goldsmith's craft, handmade piercing and jewellery pieces are produced from our own goldsmith's workshop. Yellow, white and red gold as well as silver are processed into unique pieces of jewellery of the highest quality using the latest technology and the experience gained from the company's 74-year history in the goldsmith's trade.
www.instagram.com/goldpiercingart
KURAGE TOKYO - Latex Haute Couture presented by beGLOSS
Kurage, high quality latex couture from Tokyo. An imaginative mix of latex art and high fashion.
www.instagram.com/kurage_latex_art
https://www.instagram.com/begloss/
LEQLÉ - Latex Couture
Wearable. Chic. Androgynous. The new LeQlé brand celebrates individuality and elegance. Each of the exquisite creations embodies the essence of luxury, craftsmanship and style and offers the key to a new experience of fashion in everyday life and in extravagant moments. Upgrade your wardrobe with this haute couture latex collection and make a statement that reflects your distinctive taste and refined sensibilities. www.leqle.boutique
www.instagram.com/leqle.boutique
Liquid Disco - Netherlands
The up-and-coming late fashion label from the Netherlands. With lots of neon and pastel colours, rhinestones and unique hand-dyed latex, they bring a wave of colour to the fetish scene. Their outfits offer the ultimate aesthetic and give people the opportunity to be sexy, cute and badass at the same time!
www.instagram.com/liquiddiscolatex
Little Sin
Litte Sin stands for high quality, handmade, custom-made party outfits made of genuine leather for women and men. Stylish, unusual one-of-a-kind pieces with a sexy design can be combined well with vinyl, wet look or latex. Be distinctive and unforgettable, live your little sin.
Lorand Lajos
Fashion Designer and Visual Artist Lorand Lajos from Munich.
Lucia Venezia Munich
The headdress artist from Munich. With love, creativity and a lot of passion, opulent headpieces, pompous fans and exciting accessories are conjured up. The spectrum ranges from haute couture to outfits for the Venice Carnival, Gothic and Steampunk ensembles to Baroque costumes.
www.instagram.com/lucia_venezia_muenchen
May Couture - Zurich
Carol May, the Zurich-based designer with a background in fine art, focuses her label on extravagant, tailored fashion pieces, kinky-look jewellery and unusual headwear. Playful, sensual and multi-layered with a high aesthetic standard, she shows her unique creations made of PU leather, PVC and rope. In her small collection developed for AVANTGARDISTA, she uses various elements of Japanese samurai and geisha culture.
www.instagram.com/may_couture.ch Moth-Couture by Maria Encke
The unique combination of latex with more filigree components such as lace and delicate knits form the core of fashion designer Maria Encke's work. In this way, innovative fusions are created in an ambitious, aesthetic and intense interplay. Each piece is unique. It is her declared aim to create art that lasts through this exclusivity and craftsmanship, far away from any off-the-peg goods.
www.instagram.com/moth_couture
Schnittmuskel
Schnittmuskel combines exceptional fashion with a special feel and everyday suitability that gives a unique feeling when worn. The garments are versatile and have a lot of room for interpretation. All products are handmade, produced in their own studio in Karlsruhe, and produced fairly. Upcycling and recycling are consistently used for the sake of the environment.
www.instagram.com/schnittmuskel
Synhaus
Synhaus is the definition of neo-noir luxury and hedonism. A young avant-garde fashion label that is proud to design and produce in Germany.
Tarza&Jane
Everyday key-pieces as latex fashion. Très chic. Designed and made to order Aachen, Germany. A mix of latex and classic, rather conservative cuts for everyday wear. A completely new look at this material.
www.instagram.com/tarza_and_jane
---
---